Skip Navigation
Website Accessibility
Sebo Airbelt K3 Premium with ET-1 (White)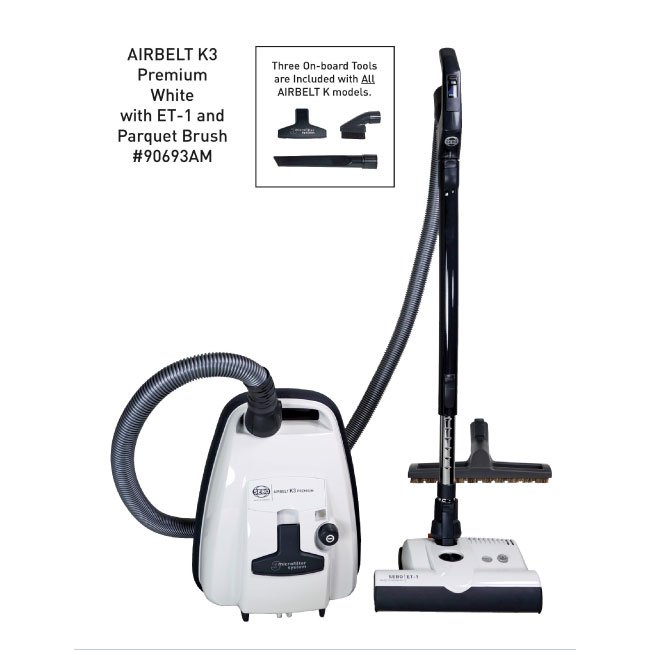 The SEBO Airbelt K3 Canister Vacuum is a powerful, lightweight canister ideal for homeowners with both hardwood floors and carpeting. This mid-sized unit offers a
large cleaning range
and maximum cleaning efficiency with its
SEBO ET-1 Power Nozzle
. The K3 offers three on board attachments and a suction adjuster on the handle. This vacuum cleaner is great for pet owners or those with asthma or allergies. Store this mid-sized canister easily with the tug and retractable cord rewind.
The AIRBELT K3 Premium Canister Vacuum.
In addition to a parquet brush, it includes the commercial-quality ET-1 electric power head that cleans both carpets and hard floors, has excellent pet hair removal, and the extension side of its L-shaped contour makes cleaning under counters easy. The power head also offers a super-low 3.5-inch horizontal cleaning profile, tool-free brush roller removal, and automatic shut off due to brush roller obstructions. Foremost among its many features, the K3's dual-control handle provides unsurpassed user convenience with an integrated on/off switch for the brush roller, a slider switch that adjusts suction power, and it facilitates effortless control of the power head's 180? steering ability.
Suction Control on Handle
The SEBO Airbelt K3 is unparalleled in terms of versatility. This model features suction control on the handle, which makes things easy as possible for you while you vacuum.
Convenient Retractable Cord
The SEBO Airbelt K3 also utilizes a retractable cord rewind. All you have to do is give the power cord a light tug and then watch the vacuum reel it in.
Powerful, Efficient Power Nozzle
The SEBO Airbelt K3 includes the renowned SEBO ET-1 power nozzle, which is one of the best powerheads available today.
On-Board Tool Storage
This SEBO vacuum features convenient, user-friendly on-board tool storage, which simplifies things for you by having all your favorite attachments at hand.
Flat-to-Floor Cleaning Capabilities
The SEBO Airbelt K3 can clean underneath beds and furniture!
Additional Features:
Tool free brush removal
Automatic self-preserving shut off feature
ET-1 power nozzle works on carpets and hardwood floors
Sound level of 63 dB
Additional Attachments:

Crevice Nozzle

,

Upholstery Nozzle

,

Horsehair Dusting Brush

,

Parquet Brush
What's in the Box: